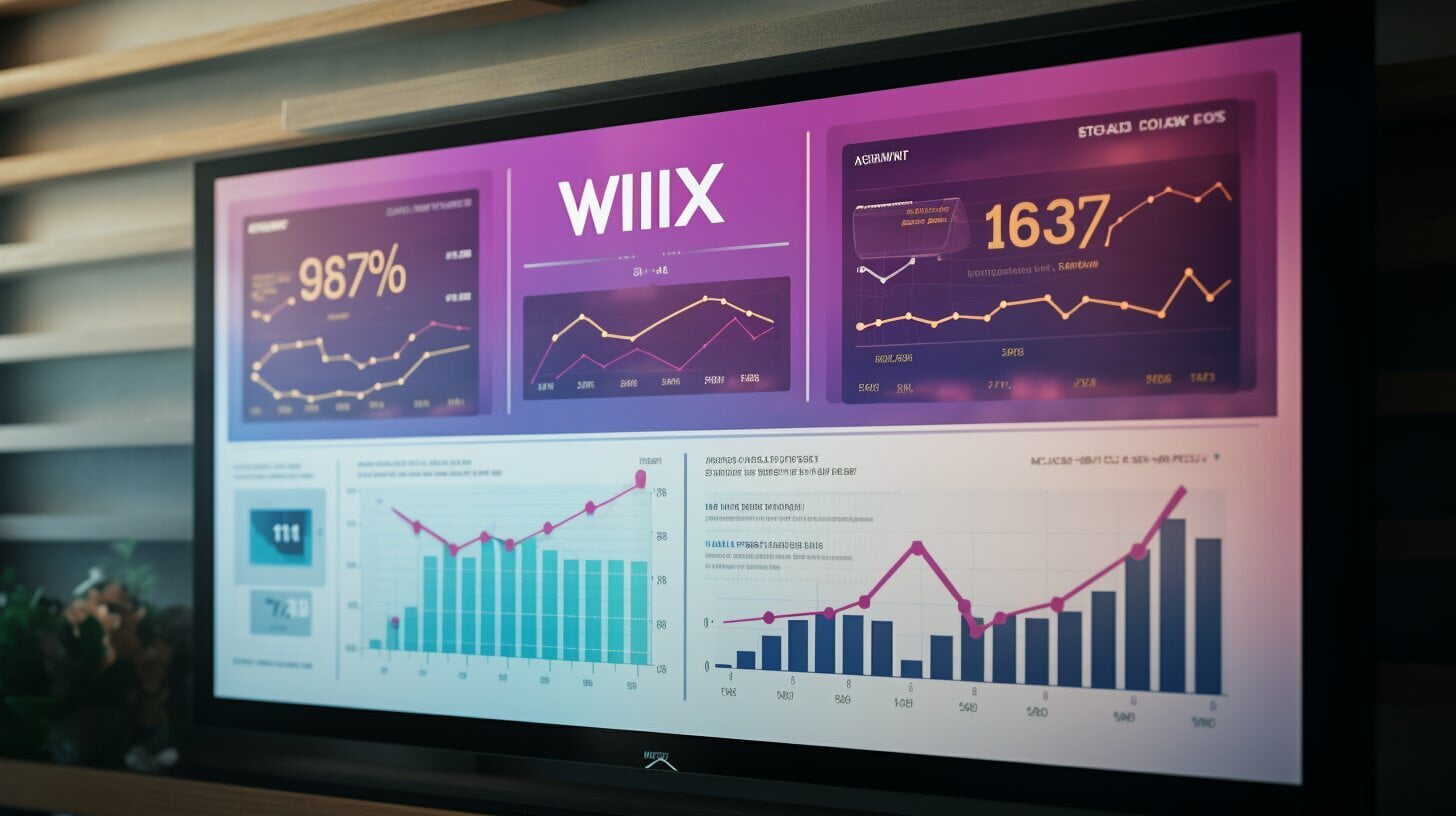 Table of Contents
Welcome to our comprehensive WIX review for 2023. In this article, we'll take an in-depth look at the website builder and provide you with all the information you need to decide if it's the right choice for you and your business. Our review will focus on three key areas: performance, user experience, and service value in the United States.
WIX has been making waves in the website builder world, with millions of users worldwide. But does it live up to the hype? Our review will answer that question and more. Let's dive in and take a closer look at what WIX has to offer.
Why WIX is the Best Website Builder in 2023?
WIX has proven to be the best website builder in 2023, and it's easy to see why. With its user-friendly interface, extensive template collection, SEO capabilities, and customer support, WIX provides an exceptional website building experience.
One of the key reasons why WIX stands out is its user-friendly interface. The drag-and-drop functionality allows for easy customization, while the WIX Editor and WIX ADI (Artificial Design Intelligence) features provide a smooth and efficient building experience. WIX has also made it easy for beginners to get started with website building by simplifying the process.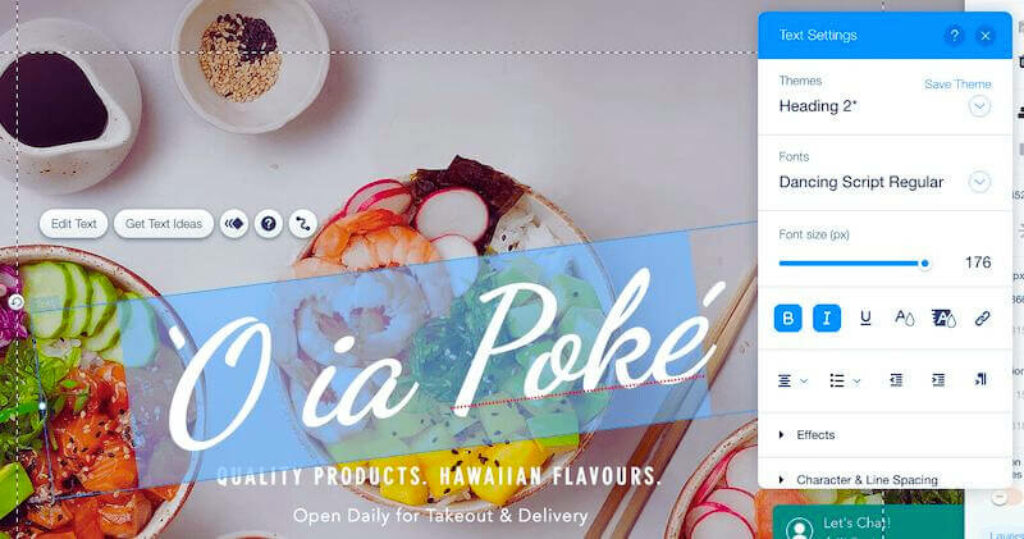 WIX offers an extensive collection of templates, including those designed for specific industries, making it easy to find the perfect fit for your website. These templates can be customized to fit your unique needs, and the wide range of design options allow for endless possibilities.
Another strength of WIX is its SEO capabilities. WIX provides built-in SEO features such as metadata customization and URL structure, which can significantly improve website visibility. Additionally, the SEO-friendly templates make it easy to optimize your website for search engines.
WIX's customer support is another reason why it's considered the best website builder. WIX offers various channels for assistance, including phone, email, and chat support. Response times are quick, and WIX also provides self-help resources such as tutorials and knowledge bases.
Overall, WIX's affordability, extensive app marketplace, and exceptional website building features make it the best website builder in 2023.
Exploring WIX Templates and Ease of Use
One of the main reasons why WIX is considered the best website builder in 2023 is the extensive collection of templates available. With over 800 templates covering multiple industries and categories, users can easily find a design that suits their needs and preferences.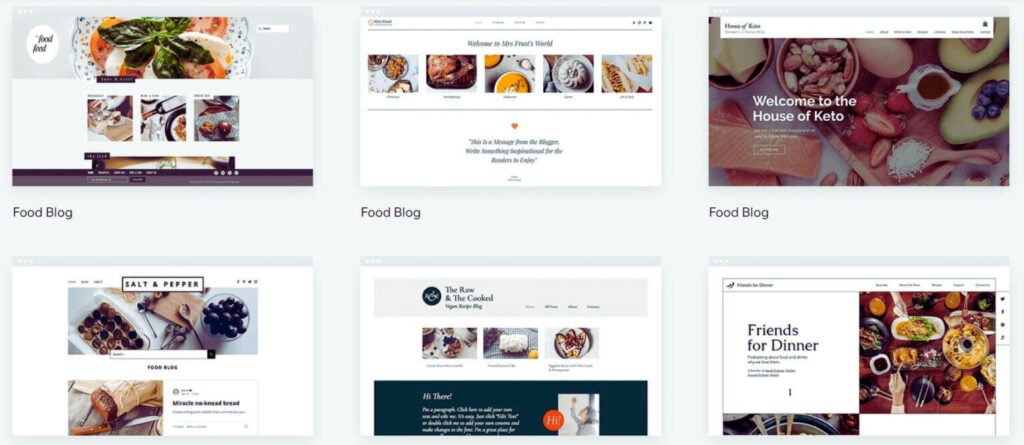 The templates are also customizable, allowing users to modify elements such as fonts, colors, and images to make their website truly unique. The drag-and-drop functionality of the WIX Editor and WIX ADI (Artificial Design Intelligence) makes it easy for even beginners to create stunning websites without any coding knowledge.
In addition to ease of use, WIX also offers a range of templates that are optimized for mobile devices, ensuring that websites look great and are easy to navigate on smartphones and tablets. The mobile editor enables users to preview and customize their website design for mobile devices, further improving user experience.

"WIX's templates are a true game changer. They are user-friendly and easy to customize, making it possible for me to create a professional-looking website in a matter of hours. The mobile optimization feature is especially helpful since most of my traffic comes from mobile devices." – John, WIX user.
"With WIX, you don't have to be a designer to create a beautiful website. The templates and customization options make it easy for anyone to get started."
WIX for E-commerce: Building an Online Store
WIX provides seamless integration of e-commerce features into its website building platform. Users can easily create an online store to sell products and services with WIX's intuitive interface, which offers a high degree of customization and control.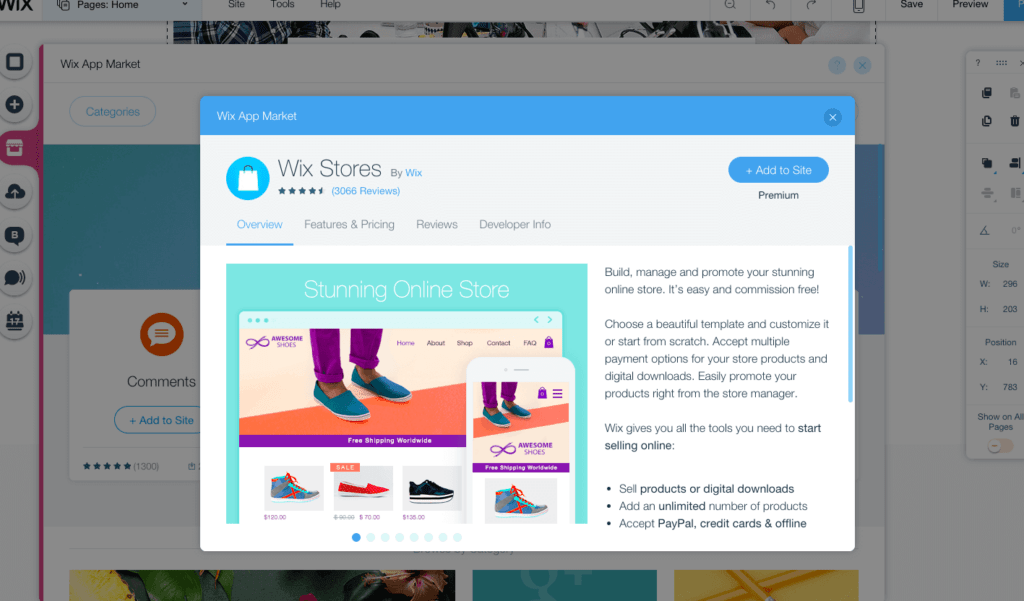 The platform features an extensive range of e-commerce templates and tools, making it easy to create a visually appealing and engaging online store. WIX's templates are designed to be mobile-friendly, ensuring that users can access and purchase products and services using a variety of devices.
| | |
| --- | --- |
| | |
| | WIX's e-commerce platform allows users to easily manage products and services, including descriptions, pricing, and inventory levels. |
| | Users can easily integrate payment gateways, such as PayPal and Stripe, into their online store to process payments securely and efficiently. |
| | WIX's platform also features inventory tracking, allowing users to keep track of stock levels and receive alerts when certain products are running low. |
| | WIX's e-commerce platform is designed to be secure, with features such as SSL encryption and fraud protection, ensuring that user data remains safe and secure. |
Overall, WIX provides a robust and reliable platform for building an online store that is capable of handling a wide range of e-commerce needs. Its user-friendly interface and comprehensive set of tools make it an excellent choice for businesses looking to create an engaging and effective online presence.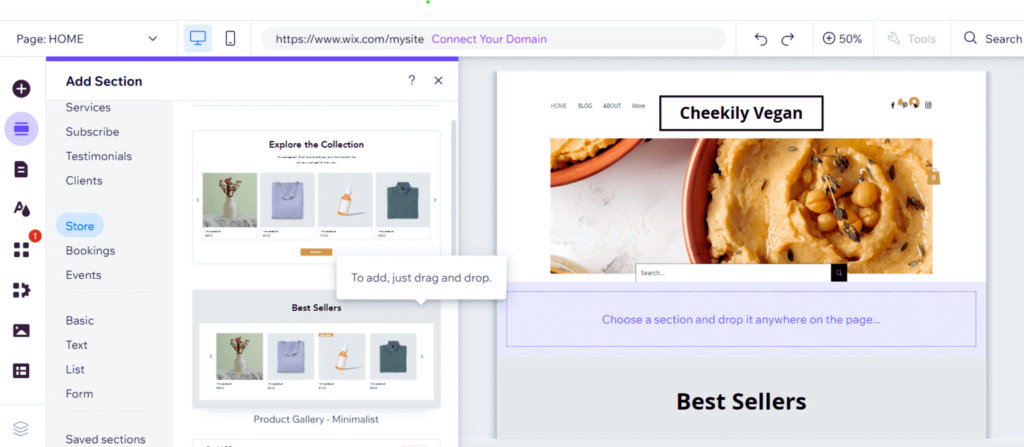 WIX Pros and Cons
Like any platform, WIX has its fair share of strengths and limitations. Here are some potential pros and cons to consider before choosing WIX as your website builder:
PROS
Affordability: WIX offers a range of pricing options for different budgets, including a free plan with basic features.
User-friendly interface: WIX is intuitive and easy to navigate, making it accessible for beginners.
Extensive app marketplace: WIX's app marketplace offers a variety of integrations and add-ons to extend functionality.
CONS
Design limitations: While WIX templates are customizable, there are design limitations that may prevent you from achieving a completely unique look and feel.
Potential scalability issues: WIX may not be the best option for websites with high traffic or complex features, as it may struggle to handle the load.
SEO limitations: While WIX has SEO capabilities, it may not be as robust as other platforms and may require additional effort to optimize.
Ultimately, the decision to use WIX as your website builder depends on your specific needs and priorities. Consider the pros and cons above, along with your budget, design goals, and website requirements, to determine if WIX is the right fit for you.
Enhancing SEO with WIX
WIX provides several features that can help improve website visibility and ranking on search engines. By implementing these features, website owners can enhance their search engine optimization (SEO) efforts and drive more organic traffic to their sites.
Customized Metadata: WIX allows users to customize their metadata for each page, including title tags and meta descriptions. This helps search engines understand the content and purpose of the page, improving its relevancy for specific search queries.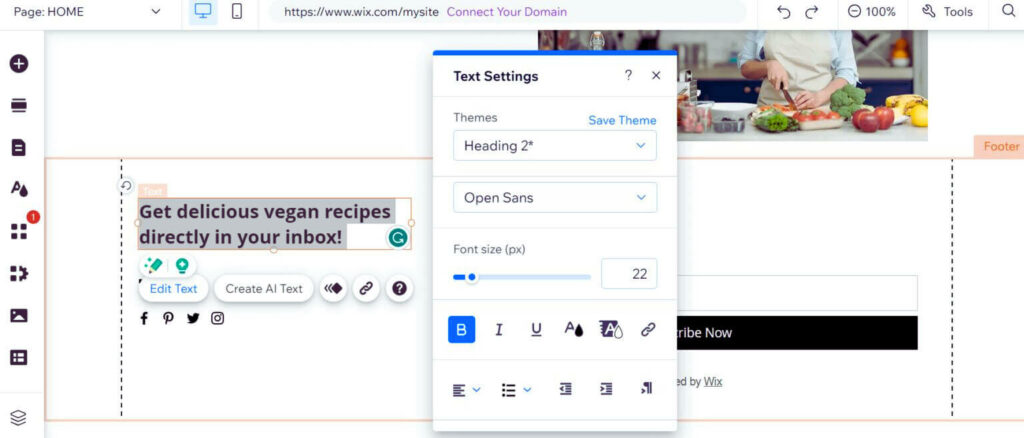 Structured URL: WIX automatically creates structured URLs that are optimized for SEO. This means that website owners do not need to manually create URL structures, saving them time and effort.
Mobile Optimization: With more people accessing websites on mobile devices, having a mobile-optimized site is crucial for SEO. WIX offers the ability to customize the mobile version of a site, ensuring that it is user-friendly and easy to navigate on smaller screens.
SEO-Friendly Templates: WIX offers a variety of SEO-friendly templates that are designed to help website owners improve their site's visibility on search engines. These templates have been optimized for SEO, including metadata and structured data, providing a strong foundation for SEO efforts.
By utilizing these features, website owners can improve their website's SEO and increase their chances of ranking higher on search engine results pages. WIX's focus on SEO-friendly features demonstrates the platform's commitment to helping its users succeed in the competitive online marketplace.
Uncovering WIX Customer Support
When it comes to creating your website, customer support is a critical factor to consider. Fortunately, WIX provides its users with several channels for support. Whether you're a beginner or an experienced user, WIX's customer support options are user-friendly and quick to respond to inquiries.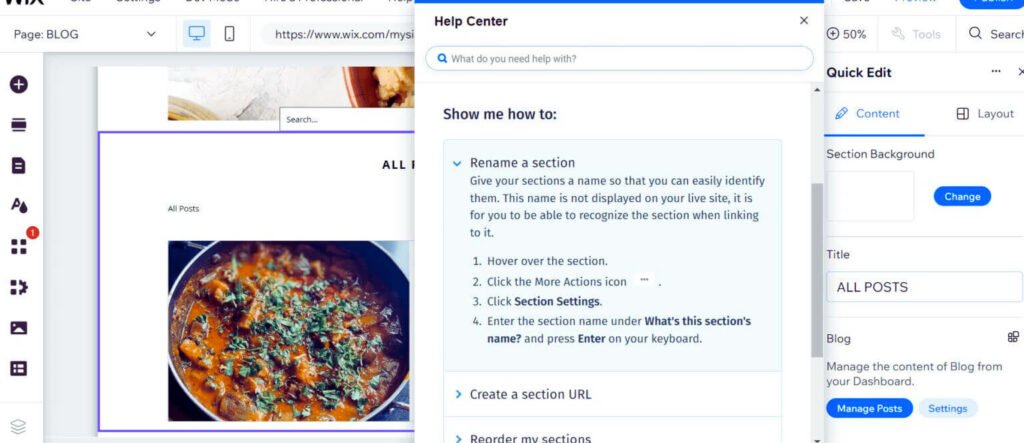 One way to obtain support is through WIX's help center, which includes a vast library of articles covering various topics like design, billing, and SEO. The help center is easily accessible through the "Support" tab on your WIX dashboard, and you can use the search bar to find specific topics or questions. The articles include detailed instructions with screenshots and videos, making it easy to follow and understand.
If the help center doesn't answer your question, you can contact WIX's customer support team directly. WIX offers phone support, email support, and a 24/7 chatbot. The chatbot is an excellent option for quick inquiries that require a simple response, while email support is available for more complex issues. WIX also provides callback support for users on higher-tier plans, ensuring that their concerns are addressed promptly and efficiently.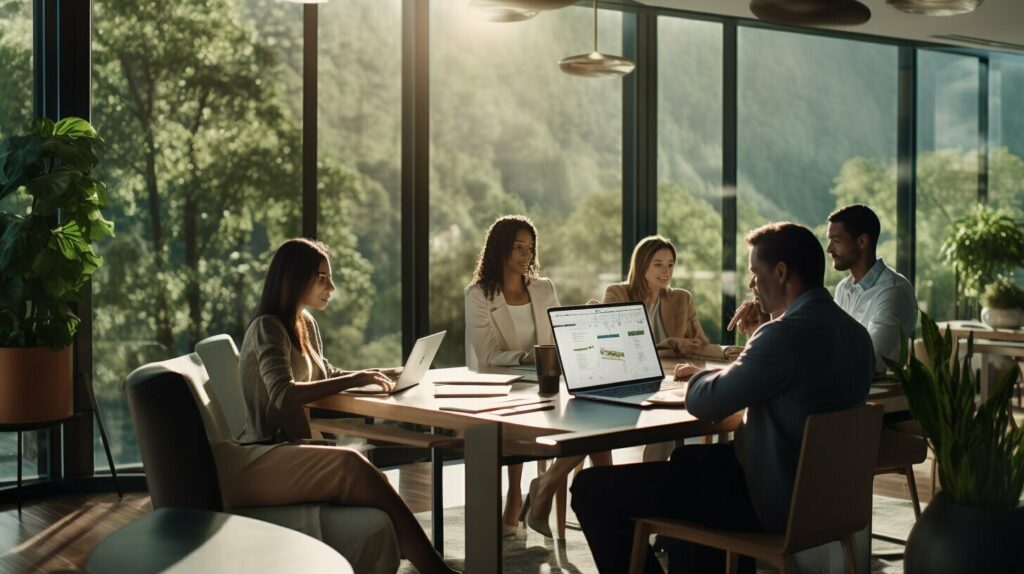 One feature that sets WIX apart is its multilingual support, catering to customers worldwide. Whether you speak English, Spanish, French, German, Italian, or Portuguese, WIX's support team is equipped to assist you in your language of choice.
Overall, WIX's customer support is thorough and readily available. With their extensive knowledge base and various channels of support, users can find answers to their questions quickly and efficiently.
Unveiling WIX's Additional Offerings
WIX offers more than just website building tools. One of their additional offerings is WIX Code, a feature that allows users to create customized web applications and integrate them with their WIX websites. This feature is particularly useful for users who need more advanced functionalities beyond what's available in the WIX Editor.
Another offering by WIX is the WIX Mobile App, which provides users with an easy way to manage their websites on the go. With the app, users can add blog posts, manage their online store, and even track website analytics from their mobile devices.
These additional offerings make WIX a more versatile platform that can cater to a wider range of user needs. WIX Code and the WIX Mobile App are just the start of what WIX has to offer beyond website building. As the platform continues to grow and evolve, users can expect more innovative features and tools to enhance their online presence.
WIX Free Plan and Pricing Options
If you're on a tight budget or just starting, WIX's free plan is a great option. It includes basic website building features, unlimited pages, and 500MB of storage. However, it comes with WIX branding and limited bandwidth, which may affect your website's loading speed.

If you need more features and customization options, WIX offers several premium plans. The most popular plan is the Combo plan, which starts at $14 per month and includes a free domain, extra storage, and unlimited bandwidth. The Unlimited plan, at $18 per month, adds more storage and a Site Booster app for website promotion. The Pro plan, at $23 per month, includes an extensive form builder and social media logo files. The VIP plan offers priority support, sales and conversion tools, and personalized SEO plans for $39 per month.
WIX's pricing plans are reasonable and flexible, allowing you to choose the plan that best fits your needs. However, keep in mind that add-ons and third-party apps may incur additional costs, and billing is annual, so you'll need to budget accordingly.
Premium Plans
Wix editor
Wix Editor is a web development tool provided by Wix, one of the leading website builders. It's a user-friendly, drag-and-drop website builder that empowers users to create and customize their websites without any coding knowledge. Here's what Wix Editor adds to the web development process:
Visual Website Building: Wix Editor enables users to design their websites visually. They can simply drag and drop elements like text boxes, images, videos, buttons, and more onto the canvas to arrange and style their web pages.
Templates: Wix offers a wide range of professionally designed templates that can serve as a starting point for various types of websites, such as business sites, portfolios, online stores, and blogs. Users can choose a template that suits their needs and customize it using Wix Editor.
Customization: Wix Editor provides extensive customization options. Users can change the layout, fonts, colors, and styles to match their brand or personal preferences. They can also add interactive elements like animations, parallax scrolling, and contact forms.
Mobile Responsiveness: Wix Editor ensures that websites created with it are mobile-responsive by default. This means that websites will adapt and look good on various screen sizes, including smartphones and tablets.
App Market: Wix has an App Market that allows users to add extra functionality to their websites. These apps cover a wide range of features, including e-commerce, booking systems, social media integration, and more. Users can easily integrate these apps into their Wix sites through the Editor.
SEO Tools: Wix Editor provides built-in SEO (Search Engine Optimization) tools, helping users optimize their websites for search engines. This includes customizing meta tags, adding alt text to images, and generating sitemaps.
Hosting and Domain Integration: Wix offers hosting services, and users can connect their own custom domains to their Wix websites directly from the Editor. This streamlines the process of publishing a website online.
Collaboration: Wix Editor allows multiple users to collaborate on a single website project. This is particularly useful for teams or clients working together on web design and content creation.
Which Wix Editor Is Easier? – Wix ADI or Wix Editor:
When it comes to ease of use, Wix ADI (Artificial Design Intelligence) is generally considered the easier option between the two Wix editors. Wix ADI is designed for users who want a streamlined and automated website building experience. Here's a brief comparison:
Wix ADI (Artificial Design Intelligence):

Ease of Use: Wix ADI is extremely user-friendly and requires minimal technical knowledge. It guides users through the website creation process by asking a series of questions about their preferences and needs.
Automation: Wix ADI uses AI to generate a personalized website layout, design, and content based on the user's inputs. It's a more hands-off approach, and users can review and make adjustments as needed.
Customization: While Wix ADI offers customization options, they are somewhat limited compared to the standard Wix Editor. Users looking for more granular control over design and content may find it a bit restrictive.

Wix Editor (Standard):

Ease of Use: The standard Wix Editor is also user-friendly and suitable for beginners, but it requires more active involvement in the design process. Users have full control over design elements and can fine-tune every aspect of their website.
Customization: Wix Editor provides extensive customization options, making it suitable for users who want to create highly personalized websites. It offers a drag-and-drop interface and allows users to add and arrange elements as they see fit.
In summary, if you're looking for the easiest and most automated way to create a website with minimal effort, Wix ADI is the preferred choice. However, if you want more control over the design and content of your website and are willing to invest a bit more time and effort, the standard Wix Editor offers greater flexibility and customization options. Your choice ultimately depends on your specific needs and preferences as a website builder.
Wix Review : the verdict
In this Wix review for 2023, we've explored the pros and cons of using this popular website builder. Wix makes it easy to create a responsive website, whether you need a simple personal site or a full-fledged online store, thanks to features like Wix Store and Wix Artificial Design Intelligence. While Wix offers a free plan, it also provides premium options for those who want a more robust website plan. From SEO features to Wix Payments and Wix Code, it's clear that Wix is a powerful and versatile option.
Plus, with its user-friendly interface and a vast selection of templates, even those new to web design can find Wix to be a good fit. Wix also excels in customer service, ensuring you have a good experience with your website. Whether you're using the free version or upgrading to a premium Wix plan, Wix has you covered as an all-in-one, easy-to-use website builder. So, if you're looking to build your site with Wix and connect it to your Wix branding, you'll discover that Wix is a great option that can help you make the most of what this popular website builder has to offer in 2023.
While WIX offers limited design flexibility and potential scalability issues, its affordability, robust app marketplace, and outstanding SEO features sufficiently compensate for these limitations. Furthermore, WIX's additional offerings like WIX Code and the WIX Mobile App provide advanced customization and website management options, respectively. Its free plan and different pricing options also offer varying features and cost-benefit ratios to cater to individual needs.
FAQs
Q: What is Wix?
A: Wix is a popular website builder that allows users to create a professional website without any coding knowledge. It provides a user-friendly interface and a variety of templates and features.
Q: Is Wix easy to use?
A: Yes, Wix is known for its ease of use. Its drag-and-drop editor makes it simple for users to customize their websites and add different elements. No coding or design skills are required.
Q: Can I build a website for free on Wix?
A: Yes, you can start building a website for free on Wix. However, the free plan has some limitations, such as displaying Wix ads on your site and using a Wix subdomain. To remove these limitations, you can upgrade to a paid plan.
Q: What are the benefits of using Wix?
A: Wix offers many benefits, including easy website creation, a wide range of templates and design options, a user-friendly interface, and additional features like Wix SEO and artificial design intelligence.
Q: Does Wix provide customer support?
A: Yes, Wix offers customer support through various channels, including phone, email, and a help center with extensive documentation. They also have a community forum where users can ask questions and get assistance from other Wix users.
Q: Can I create an online store with Wix?
A: Yes, Wix provides an integrated e-commerce platform that allows users to create and manage an online store. You can add product listings, set up payment methods, and customize the store layout.
Q: What is Wix SEO?
A: Wix SEO is a set of tools and features that help optimize your website for search engines. It includes options for adding meta tags, optimizing page titles and descriptions, generating sitemaps, and more.
Q: Can I use my own domain name with Wix?
A: Yes, you can use your own domain name with Wix. You can either purchase a domain directly from Wix or connect a domain you already own to your Wix site.
Q: Does Wix have a mobile app?
A: Yes, Wix has a mobile app that allows you to manage your website, update content, interact with visitors, and monitor your site's performance on the go.
Q: What is Wix Ascend?
A: Wix Ascend is a suite of marketing and business tools offered by Wix. It includes features like email marketing, customer management, social media posting, and more, all designed to help businesses grow and succeed online.