WordPress Pricing & Plans 2023:
Table of Contents
Welcome to our guide on WordPress pricing and plans for the year 2023. If you're looking to create a website, you've likely heard of WordPress, a popular content management system used by millions across the globe. To make an informed decision for your website, it's crucial to understand the pricing and plans offered by WordPress. In this section, we'll take a closer look at the key prices you need to know to create a successful website with WordPress.
Understanding WordPress: What is WordPress?
If you're new to website building, you might have heard of WordPress. But what is WordPress exactly?
Simply put, WordPress is a content management system (CMS) that enables anyone to build and manage a website. Whether you want to create a blog, an e-commerce website, or a portfolio, WordPress offers an easy-to-use platform that allows you to customize your website to your liking.
WordPress is a popular choice for website creation, powering over 40% of all websites on the internet. It's open-source, which means it's free to use and has a massive community of developers creating plugins, themes, and features for users to implement on their websites.
WordPress.com vs WordPress.org: Which is Right for You?
Choosing between WordPress.com and WordPress.org can be a daunting task, especially if you're new to website creation. Both platforms have their strengths and weaknesses, so it's important to understand the differences between them to make an informed decision.
WordPress.com is a hosted platform, meaning your website will be hosted on WordPress servers. This option is more beginner-friendly, as it requires minimal technical knowledge to get started. WordPress.com also offers a variety of pricing plans to fit different needs and budgets, including a free plan that's perfect for personal blogs and small websites. However, it has limited customization options compared to WordPress.org.
WordPress.org, on the other hand, is a self-hosted platform that requires you to set up your own hosting and domain name. This option gives you greater control over your website, allowing you to customize it fully and add any features you need. However, it also requires more technical knowledge and can be more expensive than WordPress.com.
If you're looking for an easy-to-use platform with a low learning curve and minimal setup, WordPress.com might be the best choice. If you're willing to put in more effort and invest in your website, WordPress.org might be the better option.
Ultimately, it depends on your specific needs and goals. We'll explore the pricing and plans of each platform in the next sections to help you make an educated decision.
WordPress.com Pricing and Plans: Pricing Breakdown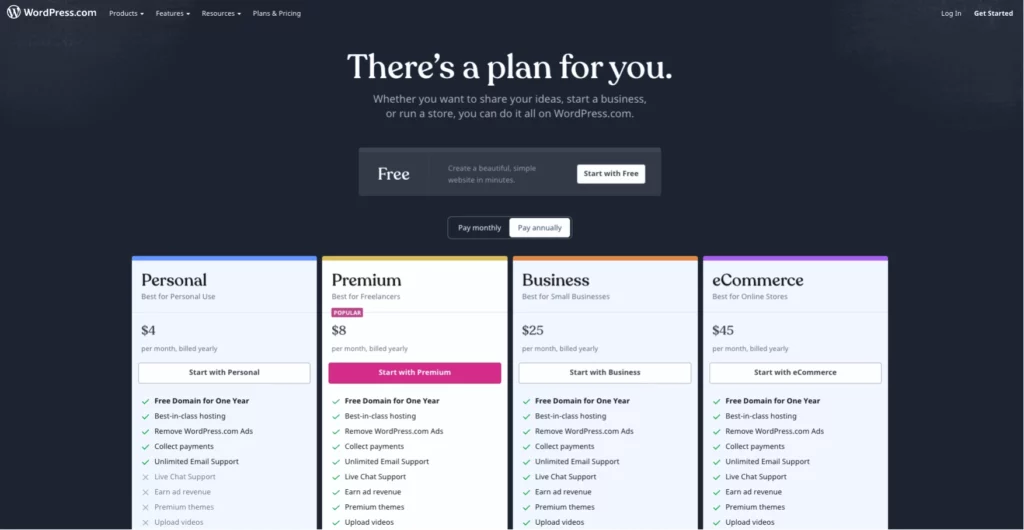 If you're considering WordPress.com for your website needs, it's essential to understand the different pricing and plan options available. WordPress.com offers a range of plans to fit various budgets, preferences, and requirements.
The Personal plan is a free version that includes basic features and a WordPress.com subdomain. This plan is suitable for personal blogs or small websites. However, if you need more advanced features, like custom domains, email and chat support, and a wider variety of themes, you may want to consider one of the premium plans.
| Plan Name | Price per Month | Features |
| --- | --- | --- |
| Premium | $8.00 | Personal Plan features + Custom Domain, Email & Chat Support, Unlimited Premium Themes, Advanced Design Customization |
| Business | $25.00 | Premium wordpress Plan features + Business Features, SEO Tools, Google Analytics, Monetization Options, PayPal Integration, 200 GB Storage Space |
| eCommerce | $45.00 | Business Plan features + Online Store, eCommerce Features, Shipping & Tax Configuration, Payment Gateway Integration, Unlimited Storage Space |
Each plan has its benefits, and the options you choose depend on your website's needs and goals. It's essential to evaluate each plan's features and pricing carefully to make an informed decision.
If you're unsure which plan is right for you, WordPress.com provides excellent support to guide you through the selection process and answer any questions you may have.
Managed WordPress Hosting: Choosing the Right Platform for Your Website
When it comes to WordPress hosting, making the right choice is crucial for the performance and success of your website. WordPress, the world's most popular content management system, offers flexibility and customization options, but it relies heavily on your hosting provider. In this guide, we'll explore the key factors to consider when selecting the right WordPress hosting platform for your needs.
Understanding WordPress Hosting
WordPress hosting refers to the server and infrastructure that stores and serves your WordPress website's files and data to visitors. The quality of your hosting provider directly impacts your site's speed, security, and overall user experience.
Types of WordPress Hosting
Shared Hosting: This is the most affordable option, where multiple websites share server resources. It's suitable for small blogs and personal websites but may lack performance for larger or resource-intensive sites.
VPS Hosting: Virtual Private Server (VPS) hosting offers dedicated resources within a shared environment. It provides better performance and scalability than shared hosting.
Dedicated Hosting: With dedicated hosting, you have an entire server to yourself. This option offers the highest level of performance, security, and customization but comes at a higher cost.
Managed WordPress Hosting: Managed hosting is designed specifically for WordPress. It includes features like automatic updates, enhanced security, and expert support, making it an excellent choice for non-technical users.
Key Factors to Consider
Performance: Look for hosting providers that offer solid-state drives (SSD) for faster loading times, adequate bandwidth, and server locations that are geographically close to your target audience.
Security: Ensure your host provides robust security features, including SSL certificates, malware scanning, and firewall protection. Regular backups are essential for data recovery.
Scalability: Choose a hosting plan that allows you to scale resources as your website grows. This prevents downtime and maintains optimal performance during traffic spikes.
Support: Reliable customer support is invaluable. Assess the level of support provided, including live chat, ticketing, phone support, and response times.
Cost: Compare hosting plans based on your budget and requirements. Be mindful of hidden fees, renewal costs, and any additional services you might need.
Uptime and Reliability: Your hosting provider should guarantee high uptime (ideally 99.9% or more). Downtime can harm your website's reputation and SEO.
User-Friendly Control Panel: A user-friendly control panel, such as cPanel or Plesk, simplifies server management tasks.
WordPress Compatibility: Ensure that the hosting provider supports the latest versions of PHP and MySQL, as WordPress relies on these technologies.
Popular WordPress Hosting Providers
Several hosting providers specialize in WordPress hosting. Some of the most reputable options include Bluehost, SiteGround, HostGator, and WP Engine. Each has its own set of features and pricing plans, so it's essential to research and choose the one that aligns with your specific needs.
The verdict ;
Selecting the right WordPress hosting platform is a critical decision that affects your website's performance and user experience. Consider factors like performance, security, scalability, support, cost, and uptime when making your choice. With the right hosting provider, your WordPress website can thrive, delivering content to your audience efficiently and securely.
WordPress.org Pricing and Plans
If you're considering using WordPress.org, the good news is that the platform itself is free to use. However, there are still costs associated with building and running a website using WordPress.org.
The primary cost you'll encounter with WordPress.org is hosting. Since WordPress.org is self-hosted, you'll need to select a hosting provider yourself. The cost of hosting can vary widely, depending on the provider you choose and the hosting plan you select. Shared hosting plans, which are usually the cheapest option, can start as low as $2.49 per month, while more advanced plans for larger websites can cost hundreds of dollars per month.
Aside from hosting, there may be additional costs associated with using WordPress.org, depending on the features and functionality you require. For example, you may need to purchase a premium theme to achieve the look and design you want for your website. Premium themes typically cost between $50 and $100.
If you plan on using any plugins to add specific features or functionality to your website, some plugins may be free, while others may have a one-time or recurring cost. The cost of premium plugins can range from $5 to over $1,000, depending on the complexity and functionality of the plugin.
Overall, the cost of using WordPress.org can vary substantially, depending on your specific needs and requirements. However, one of the benefits of WordPress.org is that you have more control and flexibility over your website, allowing you to choose the hosting provider and features that best suit your needs.
Is there a WordPress.com free plan?
Yes, WordPress.com offers a free plan, but its paid plans unlock more features and customization options. Yes, WordPress.org is free, but costs can be associated with hosting, themes, and plugins.
Comparing WordPress cost with Competitors
WordPress is a popular choice for building websites, but how does its pricing compare to other CMS options available? Let's take a look at some of the essential competitors and see how they stack up against WordPress.
Wix
Wix is a website builder that offers a range of pricing plans, including a free option. Its most popular plan, the Combo plan, costs $14 per month and includes a custom domain name, unlimited bandwidth, and 3GB of storage. For ecommerce capabilities, the Business Basic plan costs $23 per month.
Squarespace
Squarespace is another website builder that provides a range of pricing options, starting at $12 per month for its Personal plan. The plan includes a custom domain name, unlimited bandwidth and storage, and a range of design templates. For ecommerce capabilities, the Basic Commerce plan costs $26 per month.
Shopify
Shopify is a dedicated ecommerce platform that starts at $29 per month for its Basic plan. The plan comes with an online store, unlimited products, and advanced reports. For more advanced features, the Shopify plan costs $79 per month.
While WordPress may not be the cheapest option, its flexibility and customization options make it stand out. WordPress also has a broader range of capabilities compared to some of its competitors, making it a preferred choice for larger businesses and enterprises.
Which is Better for Beginners: WordPress.com or WordPress.org?
If you're new to website creation, choosing the right platform is crucial. WordPress.com and WordPress.org both have their pros and cons for beginners, so let's explore them.
WordPress.com for Beginners
WordPress.com offers a user-friendly interface that's easy to navigate, making it a good option for beginners. It's a hosted platform, meaning you don't have to worry about finding your own hosting provider, which can be a daunting task for some. Additionally, they offer various pricing plans to fit different budgets, with the Personal plan being a good starting point.
However, this ease of use comes with some limitations. WordPress.com offers a limited range of customization options and doesn't allow for advanced plugins or themes, making it less suitable for businesses or websites with specific needs.
WordPress.org for Beginners
WordPress.org requires some technical knowledge and additional steps, such as choosing your own hosting provider. However, this also means you have complete control over your website and can customize it to your heart's content. Additionally, many hosting providers offer one-click WordPress installation, making the set-up process smoother for beginners.
WordPress.org also offers an extensive range of plugins and themes, allowing for more advanced customization and functionality. This makes it a better option for businesses and websites with specific needs.
However, this freedom can come with added responsibility, such as ensuring the site's security and performing regular backups. It's important to factor in these additional tasks and costs when deciding if WordPress.org is suitable for you.
Overall, both WordPress.com and WordPress.org have their advantages and disadvantages for beginners. It's essential to consider your needs, technical knowledge, and budget when deciding which platform is better suited for you.
Additional Costs: Domain Names and Email with WordPress.com
Aside from the pricing and plans, there are some additional costs to consider when using WordPress.com. These costs include registering a domain name for your website and accessing professional email services through WordPress.com.
Domain Name Costs
When building a WordPress website (.com), there is no free domain name but you have the option to use a free subdomain (e.g., yourwebsite.wordpress.com). However, if you want a custom domain name (e.g., yourwebsite.com), you'll need to purchase it separately.
Prices for domain names vary depending on the domain extension, popularity, and availability. Generally, a .com domain name costs around $10 to $15 per year, but premium domain names can cost hundreds or even thousands of dollars per year.
Professional Email Costs with WordPress.com
Professional email services can help make your website appear more professional and credible. With WordPress.com, you can create a custom email address using your domain name (e.g., info@yourwebsite.com).
WordPress.com offers three professional email plans: Personal, Premium, and Business. The Personal plan costs $3 per month, while the Premium and Business plans cost $5 and $8 per month, respectively. Each plan includes a different amount of storage and features, so you should choose the one that best fits your needs.
WordPress Costs for an eCommerce Website
Creating an e-commerce website with WordPress.com or WordPress.org comes with additional expenses. Costs may include e-commerce plugins, SSL certificates for secure transactions, and payment gateway fees.
WordPress Pricing: The Bottom Line
For ecommerce WordPress sites, choosing the right WordPress plan is crucial for success. The Business plan of WordPress.com offers excellent features and customization options, making it suitable for larger businesses. However, if you're just starting, the Personal or Premium plans might be a more affordable option.
With WordPress.org, the cost will depend on the hosting provider you choose, but you'll have more control over your website. Keep in mind that you'll also need to factor in domain name and hosting costs.
Regardless of which option you choose, WordPress is a reliable and cost-effective choice for building your online presence. With its user-friendly interface and an extensive range of options for customization, you can create a website that meets your needs.
The bottom line! WordPress is an excellent option for individuals and businesses that want to build a website without breaking the bank. With its diverse plans and pricing options, you can choose a plan that aligns with your budget and requirements.
WordPress Themes and Plugins: Enhancing Your Website's Functionality and Design
WordPress, one of the most popular content management systems (CMS) in the world, owes much of its flexibility and versatility to its extensive library of themes and plugins. Whether you're building a personal blog, a business website, or an e-commerce store, WordPress themes and plugins play a crucial role in enhancing both the design and functionality of your site.
WordPress Themes: Elevating Your Website's Design
WordPress themes are templates that dictate the overall design and layout of your website. They provide a foundation upon which you can build your site's visual identity. Here are some key aspects of WordPress themes:
Design Customization: Themes allow you to choose from a wide array of design options, including colors, fonts, page layouts, and more. You can select a theme that aligns with your brand or personal style.
Responsive Design: Modern themes are typically responsive, ensuring your website looks great and functions smoothly on various devices, from desktops to mobile phones.
Specialized Themes: There are themes designed for specific purposes, such as blogging, e-commerce, photography, portfolios, and more. Choosing a specialized theme can streamline the development process for your particular niche.
Customization: Most themes offer customization options through the WordPress Customizer, enabling you to make real-time changes to your website's appearance.
Premium Themes: While many free themes are available, premium themes offer advanced features, support, and unique designs. Premium themes are often a one-time purchase.
WordPress Plugins: Expanding Your Website's Functionality
WordPress plugins are software modules that you can add to your website to extend its functionality. With thousands of plugins available, you can enhance your website's capabilities without needing to write custom code. Here are some examples of what plugins can do:
SEO Optimization: Plugins like Yoast SEO help improve your website's search engine optimization, making it easier for users to find your content on search engines.
E-commerce: If you want to run an online store, plugins like WooCommerce provide essential e-commerce features, such as product listings, shopping carts, and payment processing.
Contact Forms: Plugins like Contact Form 7 enable you to create and manage contact forms, making it simple for visitors to get in touch with you.
Security: Security plugins like Wordfence or Sucuri help protect your site from threats, such as malware and unauthorized access.
Performance Optimization: Plugins like W3 Total Cache can boost your website's loading speed, enhancing the user experience.
Social Media Integration: You can integrate social media sharing buttons and feeds into your site using plugins, helping you connect with your audience on various platforms.
Analytics: Plugins like Google Analytics for WordPress provide insights into your website's traffic and user behavior.
Choosing Themes and Plugins Wisely
While themes and plugins offer tremendous benefits, it's essential to select them carefully. Consider factors like compatibility with your WordPress version, user reviews, update frequency, and developer support.
By leveraging the power of WordPress themes and plugins, you can create a dynamic, user-friendly, and visually appealing website tailored to your specific needs. Whether you're a blogger, business owner, or e-commerce enthusiast, WordPress's extensive library of themes and plugins empowers you to take your online presence to the next level.
Conclusion
Choosing the right pricing and plan for your WordPress website can be a daunting task, but we hope this article has provided you with the necessary information to make an informed decision.
If you're on a tight budget, the free Personal plan offered by WordPress.com might be suitable for you. However, if you want more advanced features and customization options, you might want to consider upgrading to one of their premium plans, such as the Business or eCommerce plan.
On the other hand, if you want complete control over your website, WordPress.org might be the way to go. Although the CMS is free to use, you'll need to consider hosting fees and other associated costs.
Consider Your Website's Needs
Ultimately, the pricing and plan you choose will depend on your website's specific needs and goals. It's essential to consider factors such as your budget, anticipated traffic, and desired features when making your decision.
Lastly, we must highlight that the cost of using WordPress for an eCommerce website might vary depending on the complexity of your business model. But with the right plan and support, you can create a successful eCommerce website using WordPress.
Thank you for reading, and we wish you all the best in your website creation journey.
FAQ
A: No, WordPress is transparent with its pricing. The plans and their costs are clearly outlined, and there are no hidden fees.
Q: Can I switch from WordPress.com to WordPress.org or vice versa?
A: Yes, you can switch between WordPress.com and WordPress.org. However, it may require some technical knowledge and migration steps.
Q: Are there any discounts available for WordPress plans?
A: WordPress occasionally offers promotional discounts on its plans. Keep an eye out for any special deals or offers.
Q: Can I cancel my WordPress plan anytime?
A: Yes, you can cancel your WordPress plan at any time. However, note that refunds may not be available for certain plans.
Q: Can I use my own domain name with WordPress.com?
A: Yes, you can use your own domain name with WordPress.com. It is available as part of the premium plans.
Q: Does WordPress.com provide customer support?
A: Yes, WordPress.com offers customer support through various channels, including live chat and email.
Q: Can I upgrade or downgrade my WordPress plan?
A: Yes, you can upgrade or downgrade your WordPress plan at any time to meet your changing needs.
Q: Can I customize the design of my WordPress website?
A: Yes, WordPress provides numerous customization options, allowing you to personalize the design and layout of your website.
Q: Can I sell products on my WordPress website?
A: Yes, with WordPress.com's Business and eCommerce plans, you can create an online store and sell products.