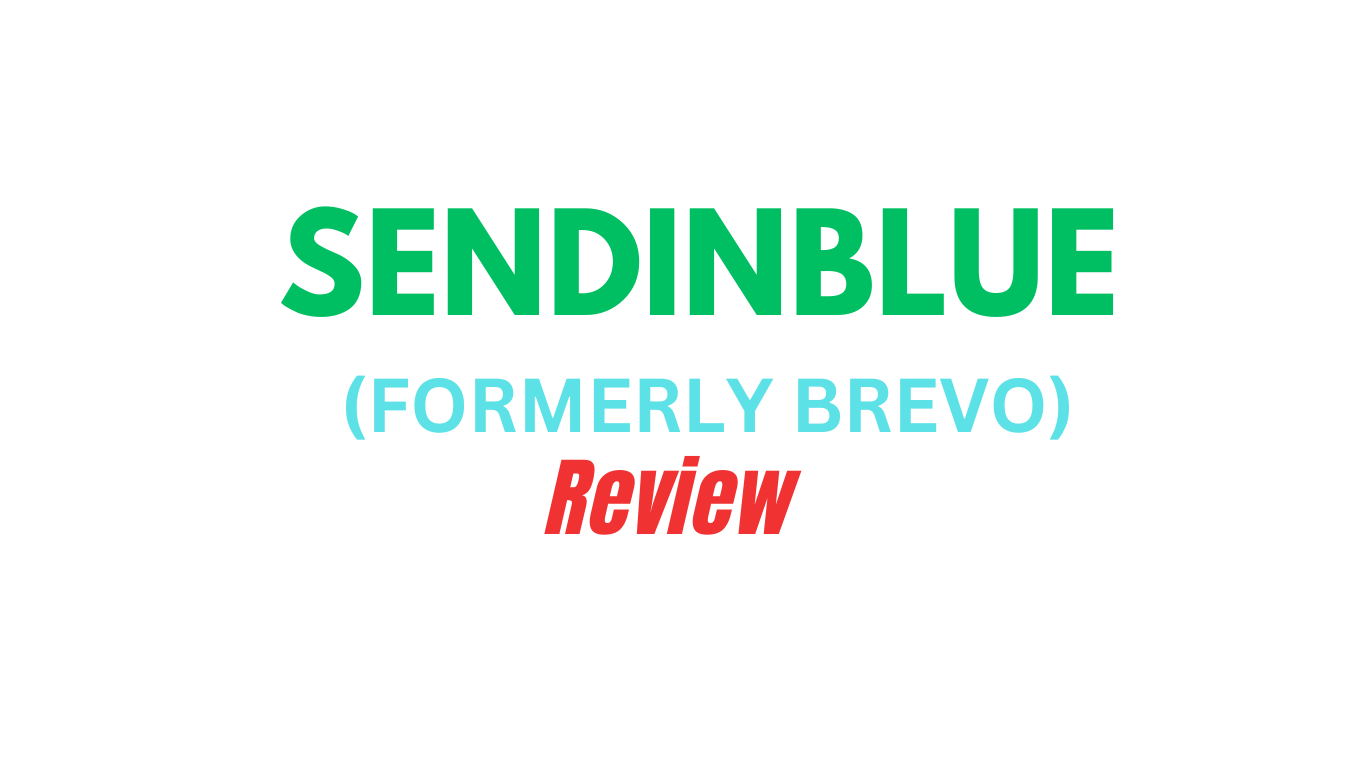 Table of Contents
Welcome to our comprehensive Sendinblue (formerly Brevo) review! As a business owner or marketer, you know how crucial email marketing is for driving revenue and building relationships with your clients. Sendinblue is an all-in-one digital marketing platform that offers a range of features, from email marketing campaigns to marketing automation, landing pages, and more. In this Sendinblue review, we'll take a closer look at what the platform has to offer and how it can help your business grow.
What is Sendinblue?
Sendinblue is a cloud-based email marketing and automation software platform that enables businesses to build and grow relationships with their customers. It provides a suite of marketing tools to help businesses create and manage email campaigns, automate workflows, and optimize their marketing efforts.
With Sendinblue, you can design and send beautiful emails, track and analyze your campaigns' performance, and manage contacts and mailing lists with ease. It is suitable for businesses of all sizes, including startups, SMBs, and enterprises.
Unlike other marketing tools in the market, Sendinblue offers an intuitive and user-friendly interface, making it easy for even non-technical users to navigate the platform. Sendinblue provides a range of features designed to save time and enhance productivity, including email templates, automation workflows, and segmentation.
Overall, Sendinblue is a reliable and efficient marketing tool that is easy to use and packed with features. Whether you're looking to run a one-off campaign or build long-term relationships with your customers, Sendinblue can help you reach your marketing goals.
Ease of Use
One of the standout features of Sendinblue is its intuitive and user-friendly interface. Even if you're new to email marketing, you can quickly navigate through the platform and create professional-looking email campaigns without any technical expertise. The drag-and-drop editor and pre-designed templates make it simple to customize your emails.
Sendinblue Pros and Cons
PROS
1. Affordable pricing: Sendinblue offers competitive pricing plans, making it an affordable option for businesses of all sizes.
2. Email marketing features: Sendinblue provides a wide range of email marketing features, such as drag-and-drop email editor, A/B testing, email automation, and customizable email templates.
3. SMS marketing: In addition to email marketing, Sendinblue also allows users to send SMS campaigns and transactional SMS messages.
4. CRM and marketing automation: Sendinblue offers CRM functionality, allowing businesses to manage customer relationships and track their marketing efforts. The platform also includes marketing automation features to streamline workflows and improve efficiency.
5. Contact management: Sendinblue provides tools for managing and organizing contact lists, including segmentation options for targeted campaigns.
CONS
1. Limited design customization: While Sendinblue offers a user-friendly email editor, the customization options for email designs can be limited compared to other email marketing software.
2. No social media marketing: Sendinblue does not offer social media marketing features, so businesses looking to manage their social media campaigns will need to use another tool alongside Sendinblue.
3. Reporting and analytics limitations: Some users have found the reporting and analytics features in Sendinblue to be basic, lacking in-depth insights and customization options.
4. Deliverability issues: Although not a common issue, some users have reported problems with email deliverability when using Sendinblue, experiencing their emails ending up in spam folders or not being delivered at all.
5. Learning curve for advanced features: While Sendinblue is generally user-friendly, some of its advanced features, such as marketing automation workflows, may have a learning curve for users who are not familiar with similar tools.
Sendinblue Pricing and Plans
As for pricing and plans, Sendinblue offers a range of options to fit different budgets and needs. Their free plan allows for up to 300 emails per day and unlimited contacts. For marketers with larger subscriber lists and higher email volume, the Lite, Premium, and Enterprise plans are available. These plans include additional features such as A/B testing, advanced reporting, and more.
| | | |
| --- | --- | --- |
| | | |
| | | Unlimited Contacts, Limited Email Volume |
| | | 40,000 Emails per Month, A/B Testing |
| | | 120,000 Emails per Month, Marketing Automation |
| | | Customizable Features, Dedicated Account Manager |
Overall, Sendinblue offers competitive pricing and a range of plans to fit different marketing needs. Their customer support is top-notch and their features offer significant value to marketers.
Sendinblue Features
One of the standout features of Sendinblue is its ability to provide marketers with all the tools required to create, manage and track email campaigns without the need to integrate with other platforms. The platform also provides several marketing features to maximize the effectiveness of email campaigns.
Email Templates
The platform offers a range of customizable templates optimized for various industries. With Sendinblue, marketers can create professional-looking email campaigns that match their brand's look and feel with minimal effort and coding experience.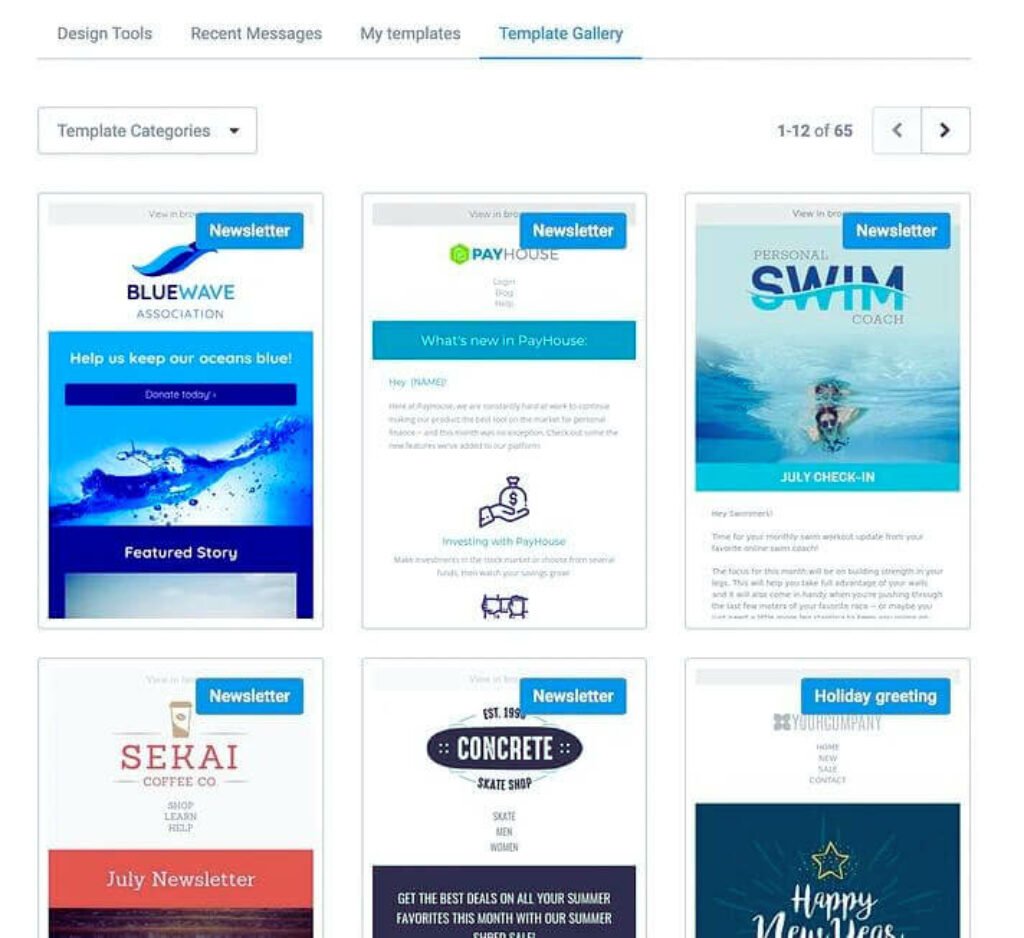 Segmentation
Sendinblue offers advanced segmentation options that enable marketers to target specific subsets of their contacts with personalized messages. With the platform's segmentation tools, marketers can create more relevant campaigns that appeal to different sections of their audience and increase engagement and conversion rates.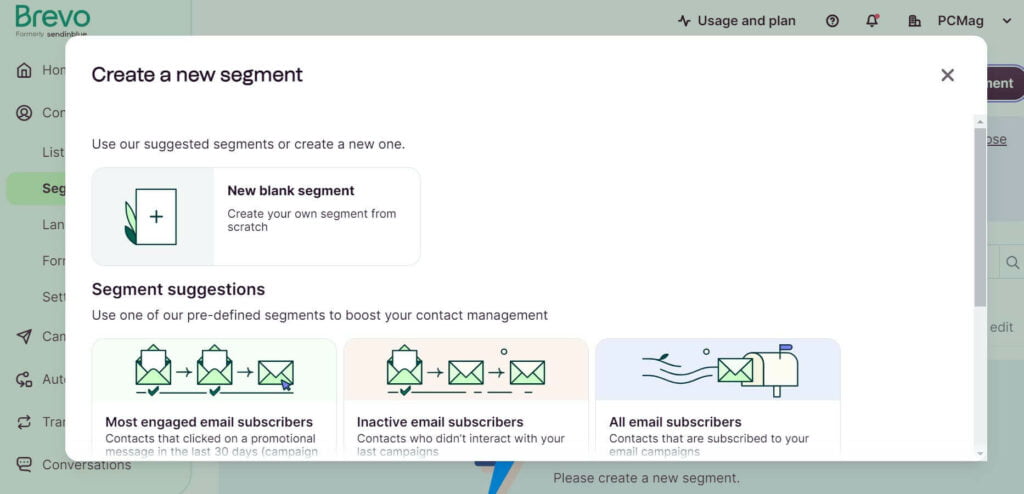 Landing Pages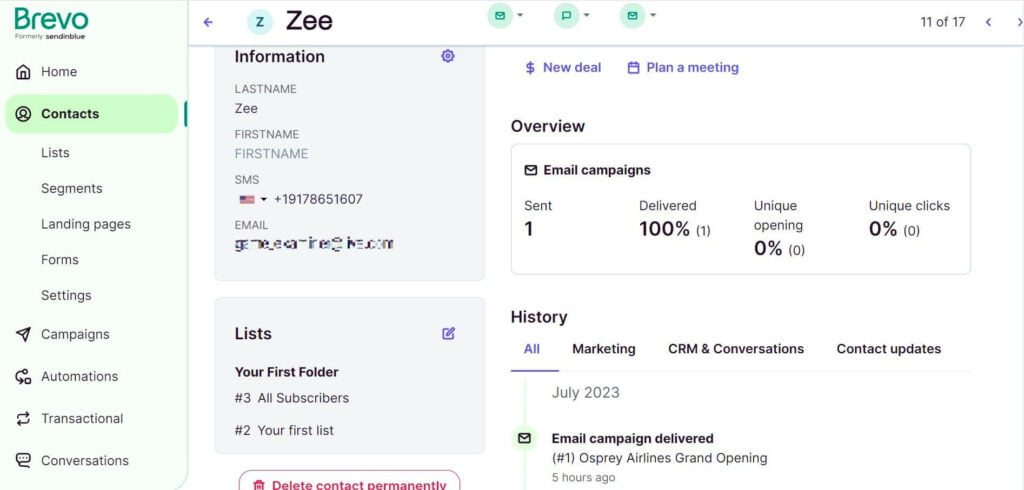 Sendinblue provides a drag-and-drop landing page builder that makes it easy to create customized and optimized landing pages to accompany email campaigns. The platform's landing pages are designed to be mobile-responsive and optimized for conversions.
User-Friendly Interface
Sendinblue has an intuitive and user-friendly interface that makes it easy for marketers to use the platform's features effectively. The platform's dashboard provides a comprehensive overview of campaign performance, enabling marketers to track results in real-time.
Integration with Brevo
As an all-in-one marketing platform, Sendinblue has integrated all the features of Brevo into its offering. This includes lead management, CRM, SMS marketing, and more. This integration provides more complete marketing capabilities to customers.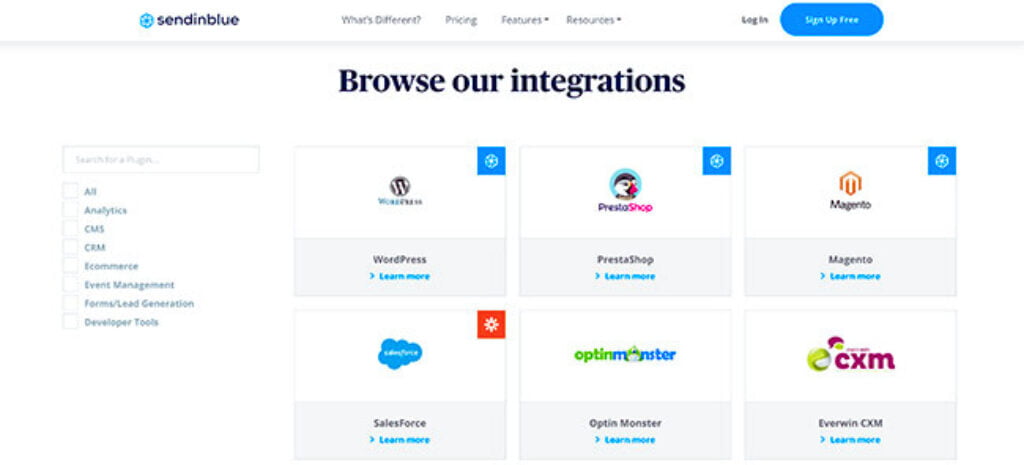 Deliverability and Analytics
When it comes to email marketing, deliverability is crucial. In this aspect, Sendinblue performs well and ensures that your emails reach the inbox of your subscribers. The platform has a good sender reputation and follows best practices to minimize the chances of your emails being marked as spam or ending up in the recipients' junk folders.
Sendinblue uses advanced deliverability algorithms to ensure email campaigns reach recipients' inboxes. The platform provides detailed analytics and reports, including statistics on open and click-through rates, enabling marketers to optimize future campaigns effectively.
Brevo SMS Marketing
SMS marketing is available on the free plan, but you'll need to buy credits, and the cost varies depending on the destination country. For instance, sending SMS within the United States will be €5 for 500 SMS or €10 for 1000 SMS, regardless of your operating location. This feature is a valuable addition because not many email marketing platforms provide it. Even a widely used newsletter tool like Mailchimp lacks this functionality.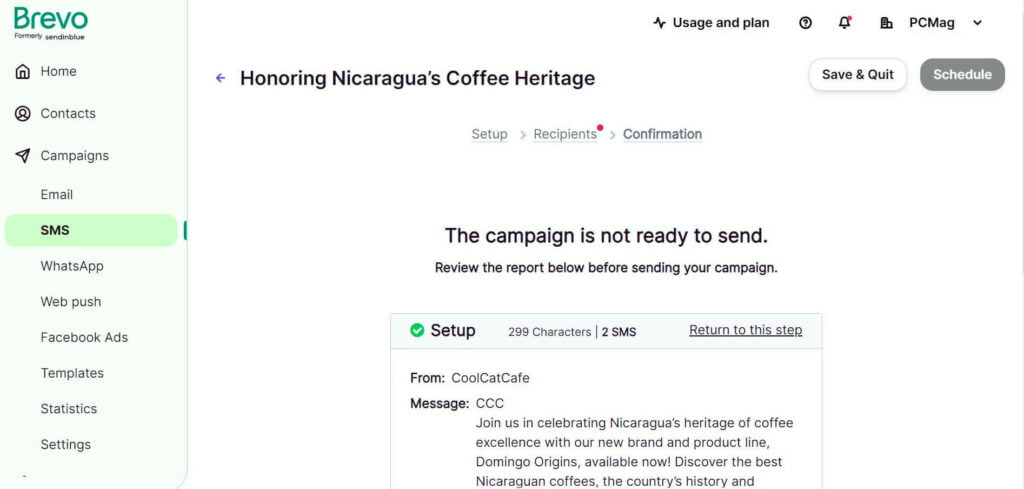 When comparing prices with the emailing tool Omnisend, we discovered that they are quite similar.
Some advantages of Brevo SMS Marketing include:

1. Cost-effective: SMS marketing is often more affordable than other forms of marketing, such as print or online advertising. Brevo SMS Marketing allows businesses to reach a large audience at a fraction of the cost.
2. High Open Rate: SMS messages have a very high open rate, with studies showing that the majority of SMS messages are read within a few minutes of being received. This means that businesses can have a higher chance of their message being seen by their target audience.
3. Immediate Reach: SMS messages are delivered instantly, making it an effective way to reach customers in a timely manner. Whether it's announcing a flash sale or sending reminders about upcoming events, businesses can quickly and easily communicate with their customers.

Overall, Brevo SMS Marketing offers a cost-effective, immediate, and personalized way for businesses to reach and engage with their customers.
Brevo for transactional emails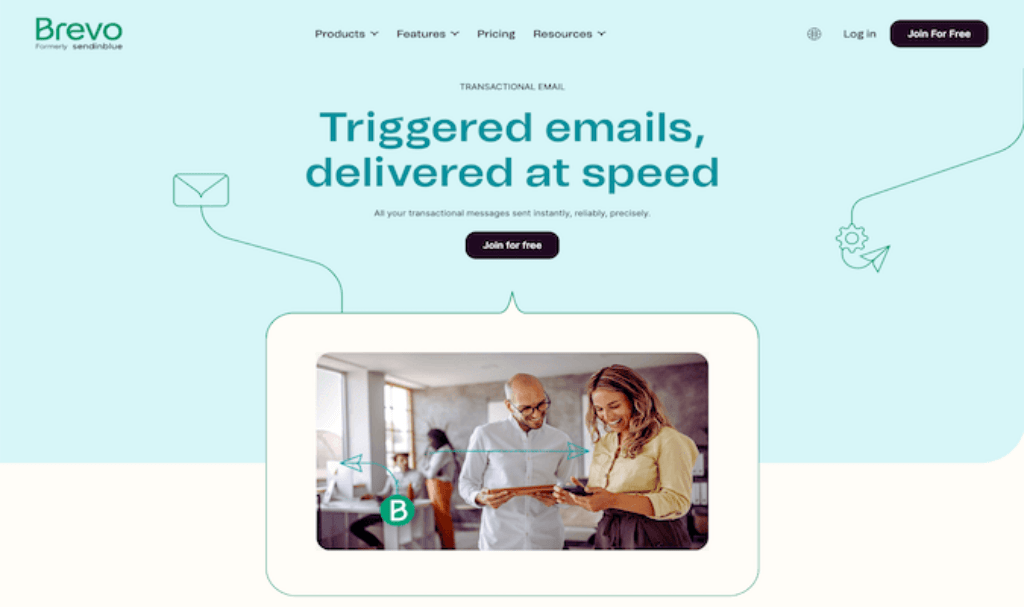 Brevo is a popular choice for transactional emails due to its ease of use and powerful features. With Brevo, you can easily send personalized transactional emails to your customers, such as order confirmations, shipping notifications, and password reset emails.
One of the key advantages of using Brevo for transactional emails is its robust API. It allows developers to integrate Brevo seamlessly into their existing systems and automate the sending of transactional emails. The API also provides real-time tracking and analytics, so you can monitor the performance of your emails and make data-driven decisions to improve your communication with customers.
Brevo also offers a drag-and-drop email builder, which makes it easy for non-technical users to create visually appealing transactional email templates. You can customize the design, add dynamic content, and tailor the email to match your brand's style.
In addition, Brevo ensures the high deliverability of transactional emails by actively monitoring email deliverability, maintaining strong relationships with major ISPs, and constantly optimizing their infrastructure. This means that your transactional emails are more likely to reach your customers' inboxes instead of getting caught in spam or promotional folders.
Overall, Brevo is a reliable and user-friendly solution for sending transactional emails, making it a popular choice for businesses of all sizes.
Exploring Email Campaigns and Personalization
Email campaigns and personalization are crucial for any successful marketing campaign. With Sendinblue, marketers can create targeted and customized email campaigns that resonate with their audience.
One of the key features of Sendinblue is the ability to create personalized emails. With dynamic content, marketers can tailor their messages to specific segments of their audience, increasing engagement and conversions. Additionally, Sendinblue offers a wide range of pre-designed templates that can be customized to fit a brand's unique style and message.
Email Campaigns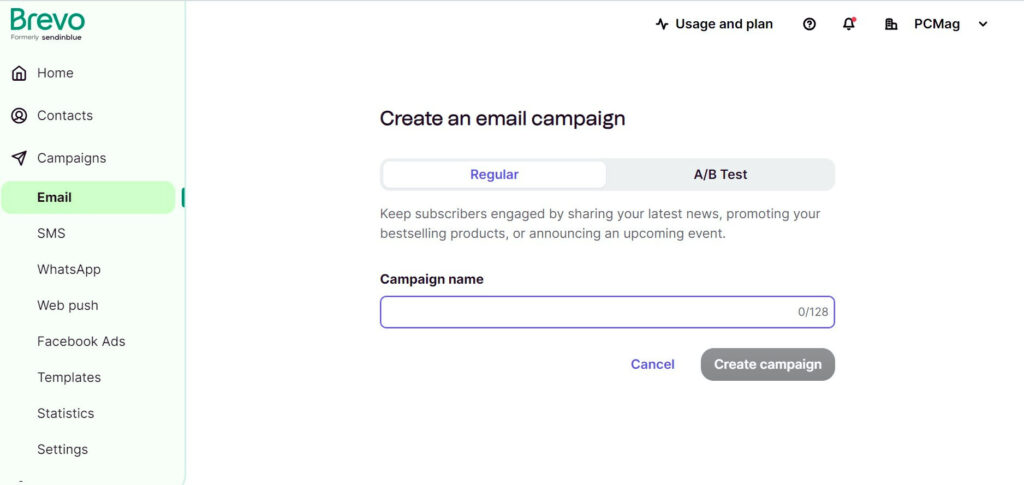 Sendinblue provides an easy-to-use email campaign builder that allows marketers to create visually appealing emails with just a few clicks. The builder includes a drag-and-drop editor, making it easy to customize templates or create emails from scratch. Additionally, marketers can preview their emails before sending to ensure that they look great on all devices.
Sendinblue also offers advanced features such as A/B testing, which allows marketers to test different versions of their emails and optimize for better results. Marketers can test different subject lines, content, and even send times to determine which version performs best.
Personalization
Personalization is key to successful email marketing, and Sendinblue makes it easy to tailor messages to individual customers. Marketers can segment their audience based on a variety of criteria, including behavior, demographics, and location. They can then create dynamic content that changes based on the recipient's information.
For example, a marketer could send a promotional email to customers in a specific location highlighting a local event. Or, they could send a personalized follow-up email to customers who abandoned their cart with custom messaging and a special offer.
Overall, Sendinblue is a powerful tool for creating email campaigns and personalization that delivers results. Marketers can take advantage of the platform's advanced features to create engaging, targeted campaigns that resonate with their audience.
Automation and Mailing Lists with Sendinblue
Sendinblue offers a variety of automation features that make it easy to streamline marketing workflows. With Sendinblue, you can create specific automation workflows based on the behavior of individual contacts, such as triggered emails and automated campaigns. Additionally, its drag-and-drop automation builder allows for easy customization, even for those with minimal technical skills.
One of the standout features of Sendinblue is its mailing list management. You can create and organize your mailing lists with ease, segmenting them by various criteria such as demographics, behavior, and more. This allows for targeted communication and helps you to reach the right audience at the right time. Additionally, Sendinblue provides an easy-to-use subscribe and unsubscribe management system, ensuring that your contacts are always up-to-date.
Sendinblue (Brevo) vs the Competition
When it comes to email marketing, there are plenty of tools available in the market. However, Sendinblue stands out from the crowd due to its unique features and ease of use. In this Sendinblue review, we will compare Sendinblue with some of its top competitors to see how it fares.
Sendinblue Email Marketing Platforms
One of the most popular email marketing platforms in the market is Mailchimp. While Mailchimp is a reliable platform with a user-friendly interface, it falls short in terms of pricing. Mailchimp's pricing structure is based on the number of subscribers, which can be expensive for businesses with a large contact list.
On the other hand, Sendinblue offers a free plan that allows sending up to 300 emails per day. Its paid plans are also cheaper than Mailchimp, making it a cost-effective option for businesses of any size.
Marketing Automation Tools
Another popular marketing automation tool in the market is HubSpot. While HubSpot offers a powerful marketing automation platform, it is more suitable for larger businesses with bigger budgets. The pricing structure can be expensive for smaller businesses looking for a more budget-friendly option.
Sendinblue, on the other hand, offers an affordable marketing automation platform that is suitable for businesses of any size. It offers a flexible pricing structure that allows businesses to pay only for what they need.
Customer Relationship Management (CRM) Software
One of the most popular CRMs in the market is Salesforce. Salesforce is a powerful CRM platform that offers a range of features and integrations that are suitable for larger businesses.
However, for smaller businesses, the pricing structure can be expensive and not a viable option. Sendinblue offers a CRM platform that is more affordable and flexible for small businesses. It offers a range of features and integrations that are suitable for managing customer relationships at scale.
Managing Contacts and Campaigns with Sendinblue
Sendinblue allows marketers to handle their contacts and campaigns with ease. The user interface is intuitive and straightforward, enabling users to add, edit, and delete contacts without confusion.
One of the fantastic features offered by Sendinblue is the ability to create segments based on customer behavior and preferences. This means that it's easy to create targeted campaigns that resonate with specific groups of people.
Segmentation in Sendinblue
The segmentation feature in Sendinblue can help marketers break down their subscriber list into distinct categories. Segments can be based on demographic data like age, gender, location, and more. They can also be created based on subscriber behavior, such as engagement with previous campaigns and website activity.
With segmentation, marketers can tailor their campaigns to be more relevant to their customers. This leads to higher engagement rates and a better return on investment (ROI).
Automation in Sendinblue
Another exceptional feature of Sendinblue is automation. With this feature, marketers can set up automated campaigns that trigger based on subscriber behavior. For instance, after a customer makes a purchase, an automated email can be triggered that provides them with a discount on their next purchase. Marketers can also use automation to welcome new subscribers, re-engage inactive subscribers, or send abandoned cart reminders.
Campaign Creation in Sendinblue
Creating campaigns in Sendinblue is a painless process. The platform offers different templates and pre-designed layouts, which can be customized to fit a specific brand's needs. The email builder is drag-and-drop, making it easy to add texts, images, and links.

The platform also offers landing page creation tools that enable marketers to create landing pages that are optimized for conversions. These pages can be used to promote products, sign-up forms, or registration pages for events.
Analytics and Reporting in Sendinblue
Sendinblue's analytics and reporting tools are powerful, providing detailed insights into campaign performance. The platform tracks metrics like open rates, click-through rates, bounce rates, and more. Marketers can use this information to optimize future campaigns and improve their ROI.
Overall, Sendinblue provides an easy-to-use platform for managing contacts and campaigns. The segmentation, automation, and reporting tools make it a powerful tool for marketers looking to improve their email marketing efforts.
Customer Support
When it comes to customer support, Sendinblue offers reliable assistance. Even on the free plan, you can expect decent support from their team. They provide various support channels such as email, live chat, and a comprehensive knowledge base. Users generally appreciate the prompt and helpful responses they receive when they have questions or issues.
Sendinblue has a reputation for being responsive and helpful. They offer 24/7 live chat and email support, which is a major plus for marketers who may have urgent questions or concerns. Additionally, they have a comprehensive knowledge base and helpful video tutorials available on their website.
Sendinblue review 2023 : the Verdict
After taking a closer look at Sendinblue, it's clear that the platform has a lot to offer marketers. With a wide range of features, including customizable templates, segmentation, landing pages, integrations, deliverability, and analytics, Sendinblue can simplify marketing workflows and help businesses achieve their goals.
The email campaigns and personalization options available with Sendinblue are particularly noteworthy, allowing marketers to create targeted and customized content that resonates with their audience. The automation and mailing list management features are also incredibly useful, streamlining processes and saving time.
When compared to other marketing tools in the industry, Sendinblue holds its own. While it may not have the same level of name recognition as some of its competitors, it offers a strong feature set at a competitive price point. Plus, the ease of use and efficient customer data management make it a top choice for marketers who want to streamline their processes.
Overall, our final verdict in this Sendinblue review is that the platform is a strong contender in the marketing space. With reliable customer support and a range of pricing plans to choose from, businesses of all sizes and industries can benefit from using Sendinblue.
Sendinblue FAQs
Q: What is Sendinblue?
A: Sendinblue is an email marketing service that provides a platform for businesses to send email marketing campaigns, manage contacts, and automate marketing tasks.
Q: What are the key features of Sendinblue?
A: Some of the key features of Sendinblue include email marketing, contact management, marketing campaigns, integration with CRM systems, and the ability to send emails to a large number of contacts.
Q: Is Sendinblue the best email marketing service?
A: Sendinblue is considered as one of the best email marketing services available. It offers a user-friendly interface, powerful features, and affordable pricing options.
Q: Can I import my email list into Sendinblue?
A: Yes, you can easily import your email list into Sendinblue. The platform provides options to import contacts from various sources, including CSV files, web forms, and integrations with other platforms like Facebook Ads.
Q: Is there a limit to the number of contacts I can have in Sendinblue?
A: No, Sendinblue allows you to have an unlimited number of contacts in your account. You can manage and communicate with all your contacts without any restrictions.
Q: How many emails can I send with Sendinblue?
A: With Sendinblue, you can send a large number of emails based on your subscription plan. The platform offers different plans with varying email sending limits, starting from 25,000 emails per month.
Q: Can I send HTML emails with Sendinblue?
A: Yes, Sendinblue allows you to send HTML emails. You can create visually appealing email templates using HTML and CSS, or you can use the drag and drop editor provided by the platform.
Q: Is there a daily sending limit with Sendinblue?
A: Yes, Sendinblue has a daily sending limit to ensure high deliverability and maintain the reputation of their email servers. The limit varies depending on your subscription plan.
Q: Does Sendinblue charge for affiliate links in emails?
A: No, Sendinblue doesn't charge any additional fees for including affiliate links in your emails. You can utilize affiliate marketing strategies without any extra cost.
Q: Why was Sendinblue rebranded to Brevo?
A: Sendinblue was rebranded to Brevo because it reflects the company's growth and expansion beyond email marketing. Brevo offers a comprehensive marketing platform that goes beyond email campaigns.